Cost
Please contact us for pricing details.
X-Screen® 3D is an online 3D/CT X-Ray Image Recognition and Interpretation Training system, specifically designed for the new line of 3D & CT X-Ray machines. X-Screen® is already certified by the UK DfT to comply with EU 6-in-6 regulations, while also being compliant with ICAO and other recognised international standards.
The X-Screen® 3D training product is a 'zero footprint' system available on all mobile and web-based platforms, without any need for a 3rd party software download or higher performance hardware! The team at Quadratica have made sure that X-Screen® 3D has been designed & developed in such a way the end user does not need to have expensive computers with extra graphics cards to run the system. X-Screen® 3D will run on the same computers the original 2D/Dual-View system runs on now… no need to update your computers. It can also be used on mobile devices too!
X-Screen® offers the System Administrator the ability to modify the lesson styles to match the experience level of the trainee, while the full reporting system provides feedback for Managers, Supervisors, and Screeners… including full playback facilities! X-Screen® was the first system to offer individual X-Ray images and real-life photos to improve overall recognition training - an important feature many now replicate.
X-Screen® offers high quality, X-Ray correct simulation on all major X-Ray machines. X-Screen® contains 3D training environments that cater for Carry-On or Cabin Baggage and Hold Baggage. An Administrator can create 'induction', 'remedial', 'refresher' or 'advanced' training lessons, all within the same system, for all major operational environments giving a greater degree of control over the training.
X-Screen® 3D is available as an individual package, or as an integral add-on to an existing Dual View/2D X-Screen® system.

The effectiveness of security screening and the probability of threat detection can be directly related to the level of training and performance of the X-Ray operator. Our X-Screen® Image Recognition and Interpretation Training course will ensure trainees:
Understand their role and responsibilities in relation to security, the screening of passengers

Have the necessary knowledge and skills in threat detection technology to perform optimum security duties

Adhere to international security standards, best practices, and relevant local regulations

Keep abreast of new and emerging threats

Enhance their skills and knowledge across multiple X-Ray machine types
Please see X-Screen® Terms of Service HERE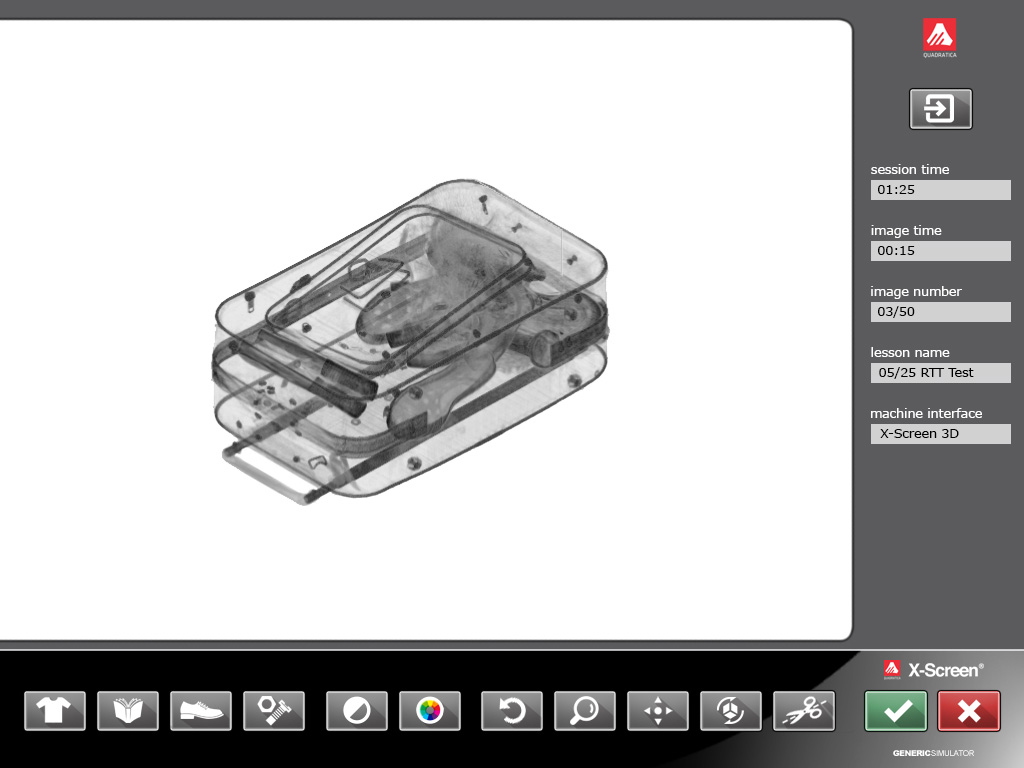 Cost
Please contact us for pricing details.