News Articles
Manchester attack: 22 dead and 59 hurt in suicide bombing
A suicide bomber has killed 22 people - including children - in an explosion that tore through fans as they were leaving a pop concert in Manchester. At least 59 people were also injured in the blast, which was caused by an improvised explosive device carried by the attacker, at the Manchester Arena on Monday night.

Victims described being thrown by the blast, which scattered nuts and bolts across the floor, and told of seeing smoke and smelling burning in the foyer area.
Police were called to reports of an explosion at 10.33pm, shortly after the singer had finished her performance, as thousands of people streamed out of the Arena.
Our thoughts go out to the family and friends of the victims of this terrible attack.
US government to ban most electronics from some US-bound flights
News of the ban landed when Royal Jordanian Airlines said in a since-deleted tweet that it received a directive from "concerned US Departments" that passengers would not be permitted to bring any electronic items into the plane's cabin, except cellphones and medical devices.
Read the story here
Homeland Security isn't saying what the reason for the impending ban is, but that a change to the rules have been considered for several weeks.
Does this have an effect on you?
Does your security operators training need altering to reflect these changes?
X-Screen is infinitely flexible... settings can be altered in a matter of minutes to reflect the change in rules, and changing "clear" electronic devices into "search" items, even in existing applied training lessons, is extremely simple. A couple of clicks and your training is up to date with the new requirements.
A new version of X-Screen™... and an increased library of images!
The latest version of X-Screen™, V2.2, is due for release this month [03/2016].
With a host of new features, increased speed and a large addition to the image library, X-Screen™ has never looked so good.
Completely web-hosted, X-Screen™ is so flexible it can cater for all of your X-Ray training requirements. Virtually unlimited X-Ray images, faster load speeds, user-defined training courses (as well as all our pre-built courses), user-led configurable training times, full reporting modules and dashboard report displays are just a few of the huge number of benefits X-Screen™ offers you.
We'd be happy to demonstrate the power and flexibility of X-Screen™ to you, just give us a call.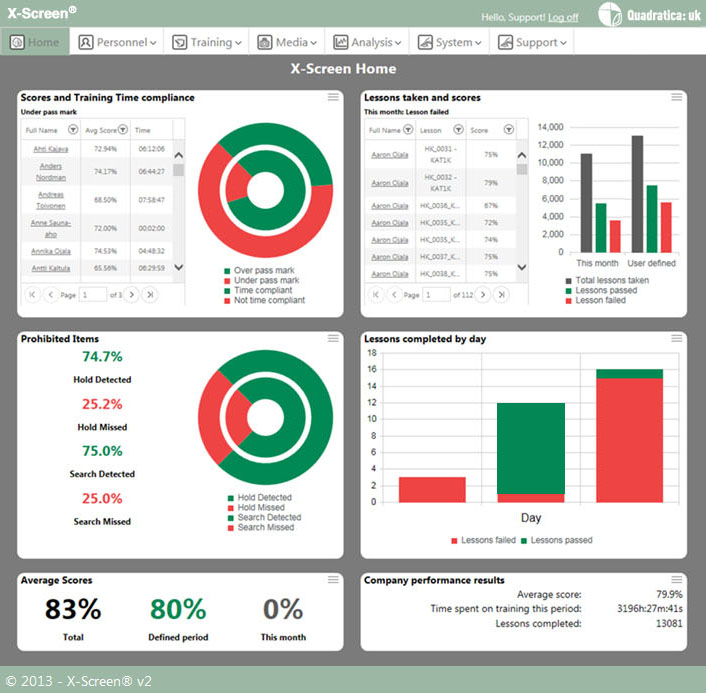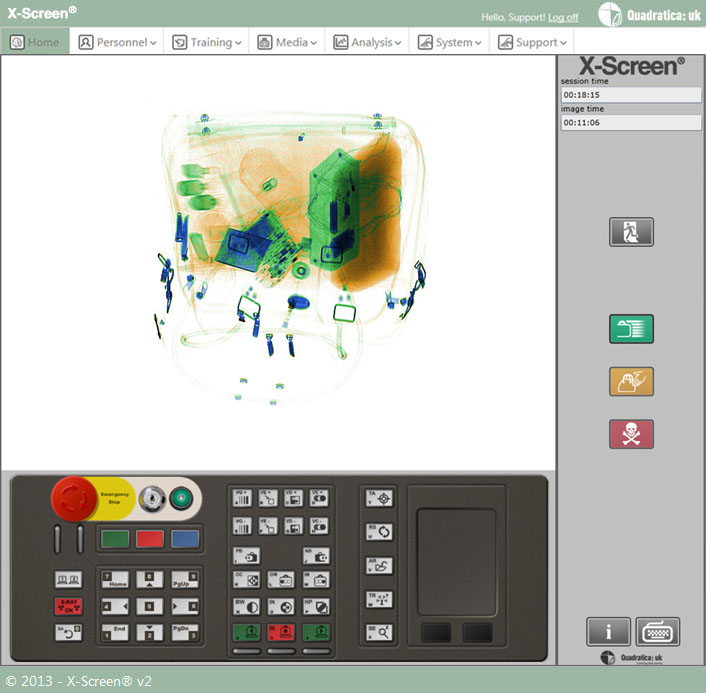 100,000 GSAT certificates issued...!
Quadratica have reached a major milestone by issuing our 100,000th GSAT certificate!
Our online GSAT course is the fastest and most economical way to gain your GSAT certification.
At just £8.88 for a single licence, we are the cheapest provider of DfT approved GSAT training in the UK.
Quadratica were one of the first to provide online GSAT training when the DfT legislation came into practice in the UK and since then, we have provided a consistently high quality product to all our customers.
Available to both individuals seeking to gain their airside pass and corporate organisations who wish to make sure their staff are trained to the highest level, our delivery engine has full administration controls and reporting modules that allow tracking of training and certification at the touch of a button.
Our GSAT course is one of the easiest to access and use, available 24hrs a day, 7 days a week. Access is instant and certificates are processed and delivered straight to your e-mail address. What could be easier?
Here's to another 100,000 GSAT certificates!
X-Screen™ is officially patented!
The team here at Quadratica are proud to announce that X-Screen™ has now been issued with an official patent, meaning that the technology behind the system has been recognised as being unique in its' ability to present X-Ray images to the student. We are delighted that X-Screen™ has had the official stamp of approval by the Patent Office, and you can be safe in the knowledge that we will continue to strive to make sure that X-Screen™ continues to be the best X-Ray training system available.
The technology behind X-Screen™ has long been acknowledged as being at the forefront of training delivery, especially now with the the latest version being completely browser based; meaning no local installation is required. The updated user interface has been designed in such a way that using X-Screen™ is even more simple and easy to use. Consequently, the speed and agility with which a user can create images and assign multiple courses to students is unrivaled.
The image library of X-Screen™ is constantly updated with the latest items and threats so the student can be kept up to date with any new items as they become available. Machine types are also developed as they are required so students will never be trained in an environment they are not accustomed to. After all, why would you have your operators using a system that looks completely different to the X-Ray machine they use?
For more information, please don't hesitate to contact us by the usual means…
40,000 online sales
Quadratica have just passed a huge milestone by completing over 40,000 online sales
This includes sales of GSAT, STKC, STAS, BSC, FSA, MTA & PSA
Our online Known Consignor course (STKC) saves businesses a considerable amount of time and money when training their staff to be DfT compliant for their Known Consignor status.
Our online Basic Screener course (BSC) delivers the fundamental training required for security checkpoint operatives and introduces prohibited threat items and their X-Ray image to the user, as well as providing essential information on the usage of X-Ray machines and other equipment used at the checkpoint.
Please contact us if you are interested in any of our online training courses. We are continually developing our library of courses and may be producing one that is of interest to you very soon!
Checkpoint Security Training
Our Checkpoint Security Training course is now available to purchase.
Based on UK DfT syllabus, this course is a perfect theory / pre-training course for your security staff before they encounter the hands-on training element.
Covering everything from greeting the passenger, to using the X-Ray machine and everything else in between, we're sure you'll find the course very comprehensive and excellent value for money.
Visit us at Transec 2015 on stand F23
Quadratica are once again exhibiting at Transec this year, held on the 2nd and 3rd December in the National Hall at Olympia.
We will be showcasing the latest version of X-Screen, along with our large online course library. We are also currently developing bespoke course creation facilities that will allow users to create their own online course! More of this to follow soon...
Come and visit us on stand F23 where you can play with our systems and see how it could improve your training capabilities.
More information can be found here: http://www.transec.com
TRS 2014 @ Olympia
We had a successful Transport Security Expo at Olympia in December.
The show was extremely busy and our team were run off our feet in order to keep up with all the visitors on our stand.
We hope that all our visitors were amazed with the new version of X-Screen® - it really is a show stopper!